My heart and my prayers go out to the victims of the Taiwan earthquake. I wish that Heaven will protect the victims so that they may survive this ordeal and begin Chinese New Year anew.
http://mashable.com/2016/02/06/taiwan                        http://www.bbc.com/news/world-asia-35508475
2016 is the year of the Monkey! The monkey is the ninth animal of the Chinese Zodiac, which consists of 12 animals in total. The number "nine" in Chinese symbolizes luck.This year, Chinese New Year begins on February 8th, 2016. Also known in China as the Spring Festival, Chinese New Year is the longest and most important celebration in the Chinese lunar calendar.
People born in the Year of the Monkey (a symbol of intelligence, wittiness, and a magnetic personality) are wise, intelligent, confident, charismatic, loyal, inventive, cheerful, clever and energetic.
This year, I happened to visit the Bellagio Conservatory & Botanical Gardens during their Chinese New Year celebration. It was a beautiful sight, with red and gold (and monkeys, of course) everywhere. The colors of red and gold traditionally represent good luck and prosperity in Chinese culture. The hard work that the Bellagio and the Palazzo have put into their displays is evident: there are gold coins galore (signifying wealth), bamboo trees, and real fruit in the displays. I researched online to see exactly what the Bellagio Gardens had decorated the displays with. I read that 88 red and gold lanterns were hung from the Waterfall Atrium ceilings, with more than 1000 flowers used to decorate the displays. Many live plants were used, such as ivy, bamboo and ferns. A "Monkey Mountain" was created, which featured climbing monkeys, as well as a Waterfall Mountain.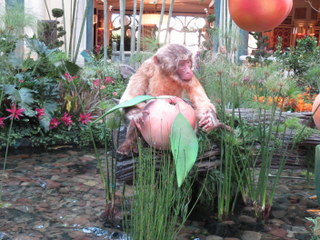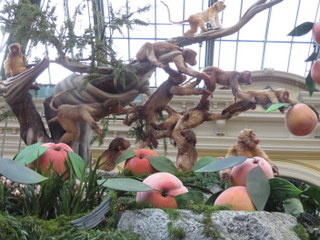 You see a lot of peaches on the Monkey Mountain and the monkeys are all trying to grab a peach, which represents longevity.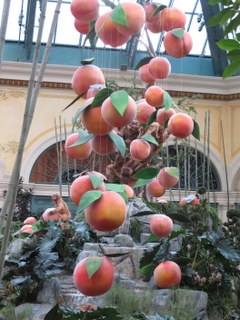 Six happy children dance in the garden celebrating the Chinese New Year. Their colorful outfits are handmade from fresh flowers such as carnations and an assortment of chrysanthemums.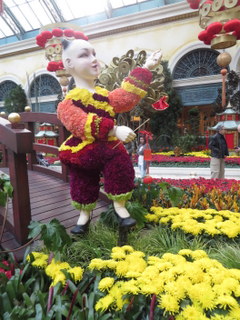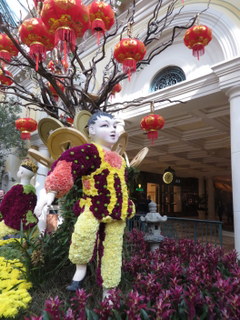 Lantern Trees
Chinese lantern trees are made from Manzanita tree and give us the wood element.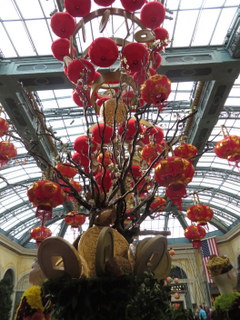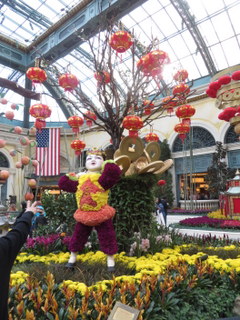 Bamboo-This plant plays a vital role in Chinese culture. The plant is known as Zhu in China and is used in almost every facet of daily life.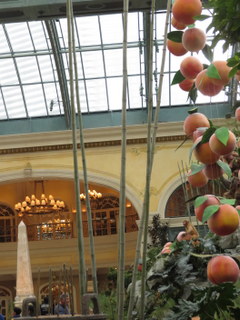 Ding-These vessels, commonly made of bronze and widely used for cooking, could only be possessed by an official or a king. This is also used for worshiping in a Chinese temple.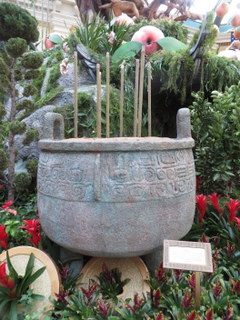 Curved Bridge-The bridge seen here is common-place in Chinese culture.These types of bridges are referred to as rainbow bridge, so called because of the distinctive arch, resembling a rainbow.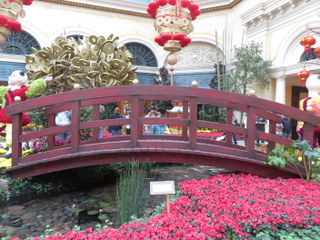 Koi Fish are a common feature in Chinese garden.
'Shui'-The water element in Chinese is called 'shui'. An essential part of life, water symbolizes emotion and can be quiet or turbulent.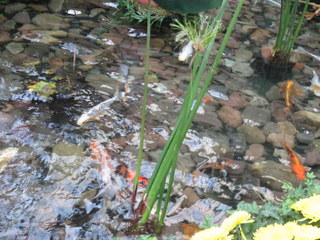 Floral Chinese Symbol- In this garden, you will see a lot of chrysanthemums with different colors and gold color plants which stand for good luck and prosperity.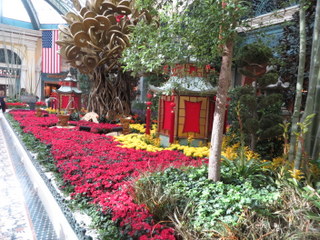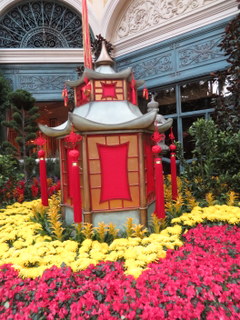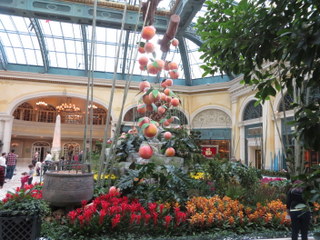 I-Ching Coins represent the element metal, symbolize wealth and are used in correlation with ancient I-Ching text.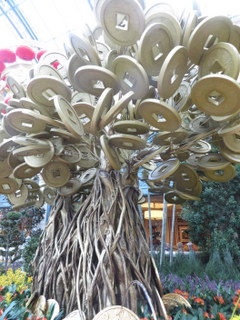 The character is "blessing" in Chinese.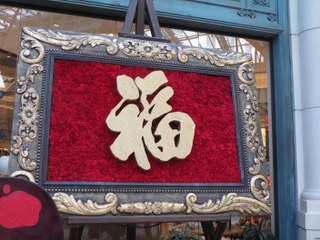 I hope you will have a truly blessed year!