(Image: © NIAID-RML) https://www.livescience.com/new-coronavirus-images.html
The post is translated from https://zhuanlan.zhihu.com/p/109274312.
07
Emergency department director Xu Ziqiang has been working on the frontline for many days.
On the day this photo was taken, he took advantage of lunchtime to come to the quarantine area, 10 meters apart, to visit his son Xu Qiubi who was also on duty. Father and son are close at hand, but cannot communicate through protective glass. Xu Ziqiang took out a prescription paper, wrote on it "Son, refueling!" and showed it to his son through the window. There, the son nodded earnestly.
From douyin @zijinshan video
"Come on, son!"
"I'll try, dad!"
When the victory arrives, you, the father and son, can sit down and have a drink. You can calmly say to each other: "Well, I didn't embarrass you, did I? "
If the mother was also nearby, would she cry?
08
Here is a nurse's diary.
She's always worried about the patient on the forty-third bed. He had written a suicide note, barely legible in scrawled letters: "When I die, my body will be donated to the state." He then rejected the intravenous globulin he was prescribed, saying he would leave it to those who needed it. But the medical team never gave up, they went all out to treat him and contacted the referral hospital. He was transferred to Jinyintan hospital, and his condition has since improved. In the photo, he raises his thumb. Seeing the picture, the nurse burst into tears. She choked and said, "fortunately, we worked hard. I'm glad we tried," she sobbed, "This time it is no longer the powerlessness of failure."
"Even if you give up, we won't give up on you. Your coming back to life is our best reward." Thank you, dear angels, in white. You have shown us the most moving light of human nature — unconditional love. The disease is cruel, but you are warm and robust.
It's good to have you.
09
Anqing, Anhui province, February 13.
A newly diagnosed patient with coronary pneumonia has been cured and discharged from the hospital. The medical staff sent him flowers to congratulate him. He took the flower and suddenly fell to his knees. "You restored my life. Thank you!"
The display has made a lot of people cry because we all know that for a big man to do such an act, there must be hidden experience behind it. From suspected to diagnosed to cured. The great panic, the stress, the pain to the gratitude. And that's the only way to express it. "Thank you very much!"
All the angels on earth. How many times has death stretched out its claws, yet you rushed to save people. Death said, "I will take them!" You tried to block it, saying: "No way!" As a result, one patient after another was reborn, and now families can keep their close relatives. You deserve all the praise.
You deserve that kneeling.
10
Photographed is Miss Wuhan, who recovered from the new coronavirus and was discharged from Jinyintan hospital on February 1.
Two weeks later, she read in the news that the director of the Jinjintan hospital said that the recovered patients had comprehensive antibodies to fight the virus, and so he requested that they go to the hospital to donate plasma. She immediately decided to give, and she called on others who had also recovered to come forward.
It was reported that, after the release of the three hotlines of "recovered plasma donation," the phone immediately exploded, as many recovered patients called in requesting to donate. This is a tear-jerking story. The Chinese say that a gushing spring should reciprocate the grace of dripping water. So how should one pay back a life-saving? They chose to repay with blood.
 They took action without hesitation, without fear.
11
Dr.  Xiaodong Fun has been sticking to the hospital since the Spring Festival.
He graduated from Hebei Medical University. The picture was taken in 1995 and includes some of his dorm brothers.
 The battlefield is different, but the enemy is the same. Take care, my brothers.
This Spring Festival, they were all fighting in Tianjin, Beijing, Shijiazhuang. This is their latest photo.
From Douyin @ 风 小 东 "At that time, my classmates were young and ambitious."
They are still fighting side by side today. If brothers are of the same mind, their sharpness can cut through metal.
I look forward to your victory and triumph soon.
12
At first, we all thought the outbreak was just for the people of Wuhan.
It was later learned that each of us was among them. Everyone also faces choices. Is it rushing or persuading? Is it helping, or just watching? Is it cooperation or chaos? … If it were not for the epidemic, these questions would not be answered. We don't even know for sure what we would do.
But at this moment, when the people across the country handed in their answer sheets, we were pleasantly surprised to find that there was so much unexpected warmth and endless hope on earth. Those little bits of light, together, became a warm sun.
Thank you to those who give selflessly, and to every brave and kind person. It is you who raised a torch in the dark to let us feel warm and at ease in this sudden disaster. The epidemic has allowed people who have been used to being alone see that we are closer together than we think. After this disaster, we will still look forward to working together. May each of us in China, in the future, bring light when it is needed, to illuminate the night and warm the world.
Birds of a feather flock together. Meeting better people can make you the same.
疫情整整35天,我在抖音看到了最真实的人间
原文来自https://zhuanlan.zhihu.com/p/109274312
07
急诊科主任徐自强,已在抗疫一线连续工作48小时。
这天,他趁午餐时间来到相隔10米的隔离区,看望同样在值班的儿子徐秋笔。父子俩人近在咫尺,却隔着防护玻璃无法交流。徐自强随手拿出一张处方笺,在上面写下"秋笔,加油!",透过窗户,给儿子看。窗那边,儿子认真点头。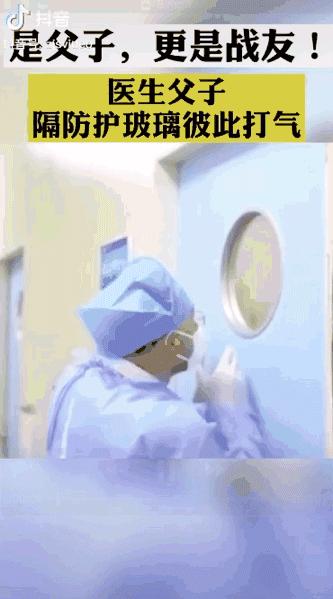 来自抖音@紫金山视频"儿子,加油!""我会努力的,爸爸!"打虎亲兄弟,上阵父子兵。一线很苦,但你们的所有付出,都是勋章。请好好记住今天。待他日得胜归来,你们父子俩可以坐下来,好好喝一杯,若无其事地互相说一句:"怎么样,我没给你丢脸吧?"
不知道妈妈在旁边,会不会掉眼泪呢?
08
这是一个护士的日记。
她一直很担心43床的患者。他已经写下遗书,歪歪斜斜的字,勉强可以辨认出"我死后,遗体捐献给国家"。随后,他拒绝了静脉输入球蛋白,说要留给需要的人。但是医疗队从来没有放弃,一直全力救治,并帮他联系转院。终于,等来了金银潭医院的一个床位。他转院了,状况也有了好转。照片中,他举起了大拇指。护士看到照片,忽然就泪流满面。她哽咽着说:幸好我们努力了。幸好这一次,不再是失败的无力感。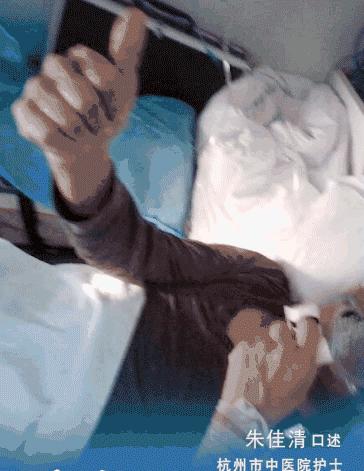 来自抖音@浙江名医馆"就算你自己放弃了,我们也不愿放弃你。你活过来,就是对我们最好的奖励。"谢谢你们,亲爱的白衣天使。你们让我们看到了人性最动人的光芒——无条件的爱。病魔残酷,而你们温暖又给力。
有你们真好。
09
2月13日,安徽安庆。
一名新冠肺炎的确诊患者治愈出院了。医护人员给他送花祝贺。他接过花,忽然屈膝跪下:"捡了一条命啊!谢谢了!"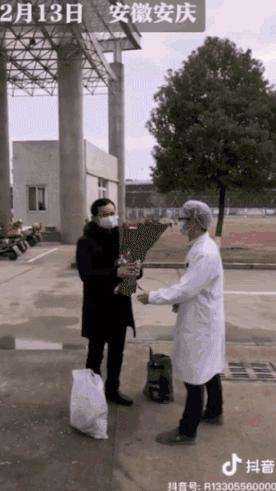 来自抖音@任祥斌这一跪,跪哭了很多人。因为我们都知道,一个大男人做这样的举动,背后一定藏着不为人知的经历。从疑似,到确诊,到治愈。这过程里巨大的恐慌,压力,痛苦,感激……也只有用这一跪,来表达了。谢谢了!所有的人间天使。多少次,死神已经伸出魔爪,而你们硬生生冲过去夺人。死神说:我要带他们走!你们拼命挡住,说:休想!于是,一个个患者得以重生。一个个家庭,留住了他们的至亲。你们配得上所有的赞颂。
你们值得,那一跪。
10
她,是个武汉小姐姐,新冠病毒的痊愈患者,2月1日从金银潭出院。
两周后,她从新闻里看到,金银潭医院院长说,康复患者体内有综合抗体,可以对抗病毒,恳请康复后的患者去医院捐献血浆。她立刻决定去捐献,还呼吁其他痊愈者也前来支持。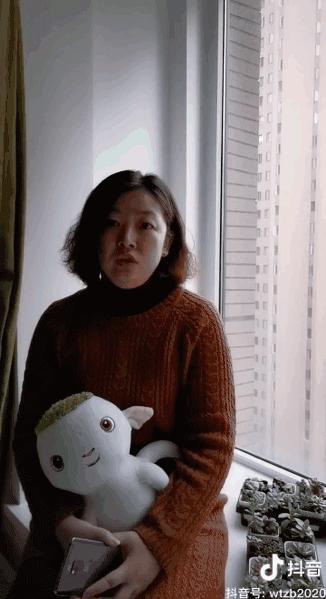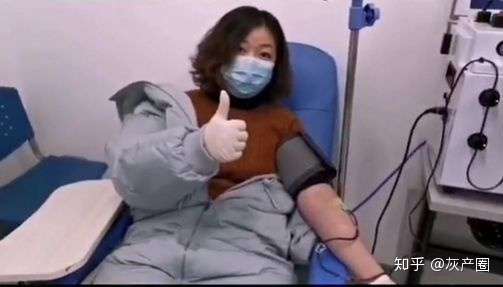 来自抖音@玩童珠宝据报道,"康复者血浆捐献"的3部热线公布后,电话瞬间被打爆,很多痊愈患者都积极想要捐献。这是个让人泪目的新闻。中国人讲,滴水之恩,当涌泉相报。那么救命之恩,何以为报?他们选择用热血来报答。
毫不犹豫,毫无畏惧。
11
风小东。医生。春节以来一直坚守医院。
他毕业于河北医科大学。这是1995年,他和宿舍的兄弟。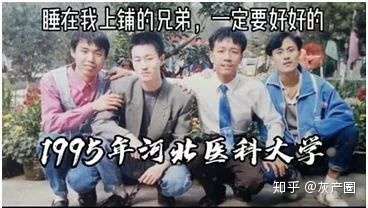 而这个春节,他们分别战斗在天津、北京、石家庄。这是他们的最新合影。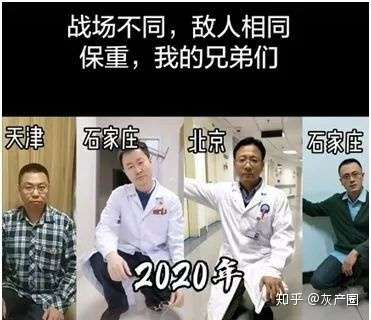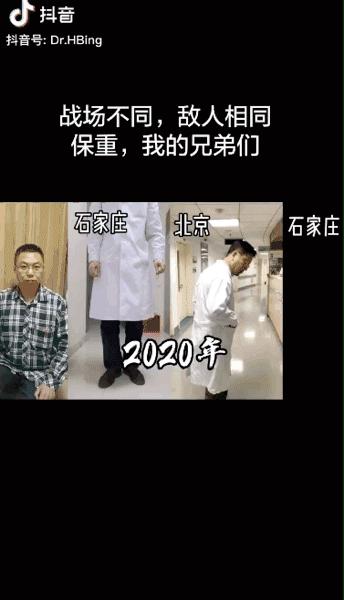 来自抖音@风小东那时同学少年,青春壮志。如今并肩作战,一往无前。你们才是这个时代真正的男神!兄弟同心,其利断金。
期待你们大获全胜,早日凯旋。
12
最初,我们都以为这场疫情只是武汉人的事。
后来才知道,原来我们每个人,都在其中。每个人也都面临选择。是冲,还是怂?是助力,还是旁观?是配合,还是添乱?……如果不是这次疫情,这些问题不会有答案。我们甚至自己都不清楚自己会怎么做。而此刻,当全国人民交出答卷,我们才惊喜地发现:原来人间,真的有那么多不期而遇的温暖,和生生不息的希望。那一点点小小的光,连在一起,就成了暖阳。谢谢了!每一个无私付出的人。每一个勇敢善良的人。每一个在黑暗里举起火把的人。是你们,让我们在这场突如其来的灾难里,感到温暖,心安。也让早已习惯独行的人们看到,原来我们那么紧密地在一起。愿这次灾难过后,我们依然心怀热望,携手向前。愿我们每个中国人,今后都在自己被需要时发出光来,用点点微光,照亮黑夜,温暖人间。
最后,物以类聚,人以群分,接触更优秀的人也可以让你成为同样的人。