Posts tagged
enlightenment
0
Life will always be a little disappointing
Destiny is unfair, society is cruel, and love is gone.
I want to strive to make a good life for my family
But I feel powerless from time to time
In the face of various disappointments
Some people have complained, were lost, been confused and become numbed
And even give up on themselves
While some people choose to stay and face it
After realizing the truth of life, still love it
Those who see the light in their hearts and their eyes
Can always have ordinary or difficult days and live the tenderest of all
1) Under a bridge in Xi'an, a homeless man creates art
Although he did not have any formal teaching, he uses his brush to paint the beauty from books and his memories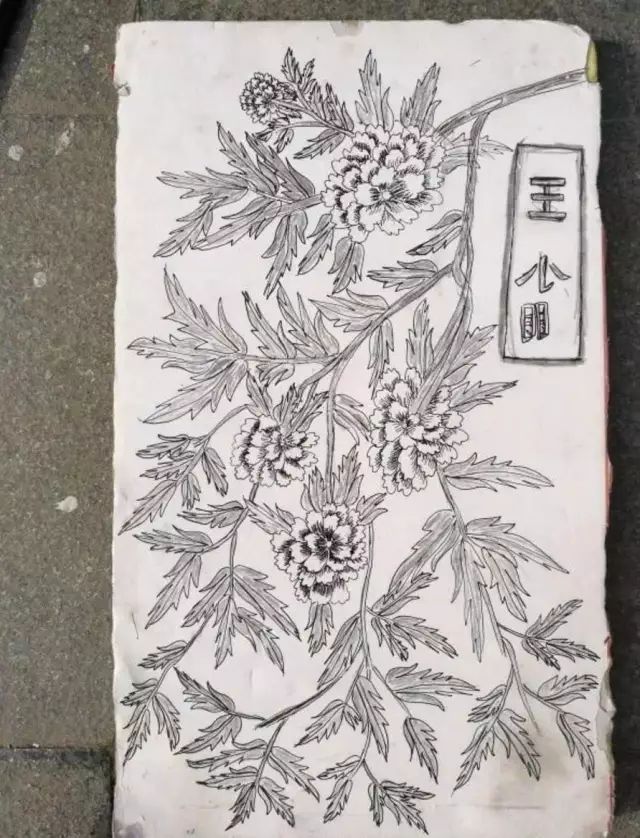 The soul has nowhere to set, so he chooses to wander
Although material is scarce, the spirit is rich,
Enough to let the man overcome his old sadness.
2) In the labor market, a drillmaster does calligraphy in his spare time, stroke after stroke, so focused that the noise from men playing cards next to him do not disturb him.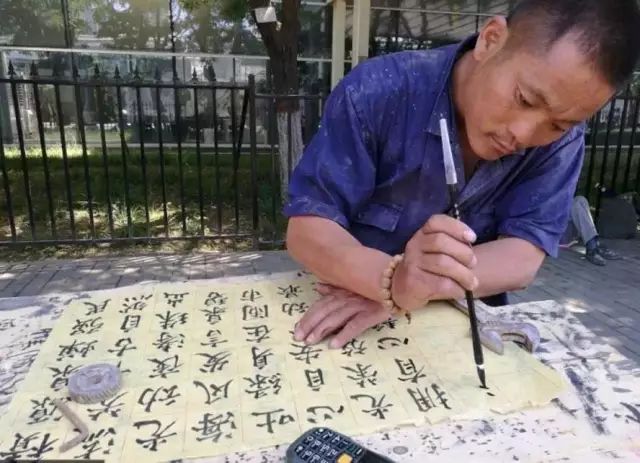 There is a quiet heart, and there are lotuses everywhere
3) A man who often came to the library to read books, and carefully washed his hands many times before sitting at his desk and turning the pages quietly.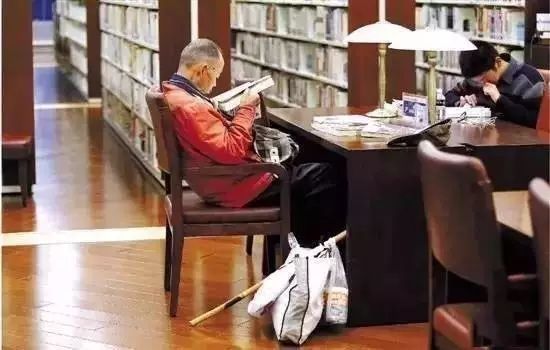 His name was Wei Zhao, and after his death, people realized that he had been quietly donating to poor students all his life.
4) A scavenger, a grandfather, is studying seriously on the subway.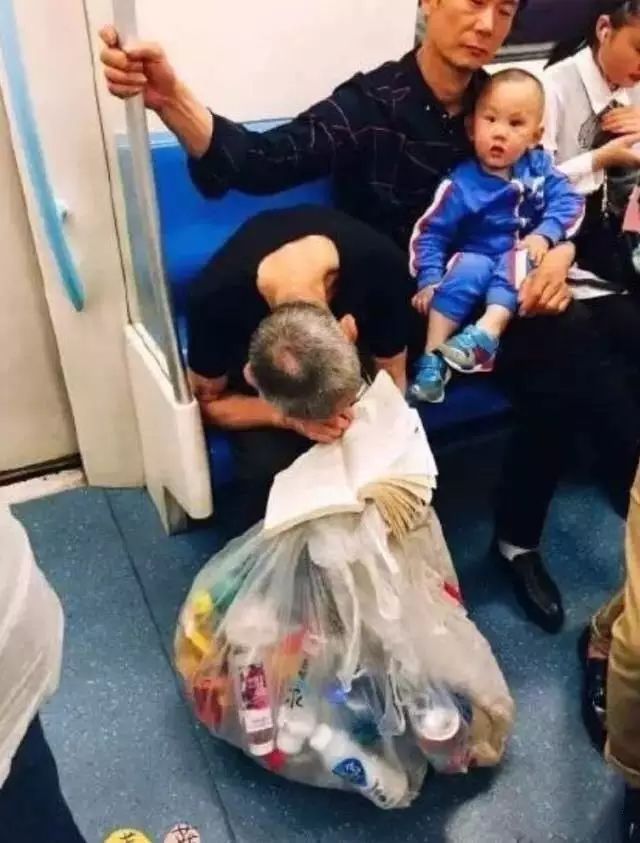 How cute to see the way he reads his book
5) Victoria of Brazil, a middle aged mother who raised her children by collecting junk, was admitted to Brazil's most prestigious institution after self-teaching using the books that she found in
garbage dumps.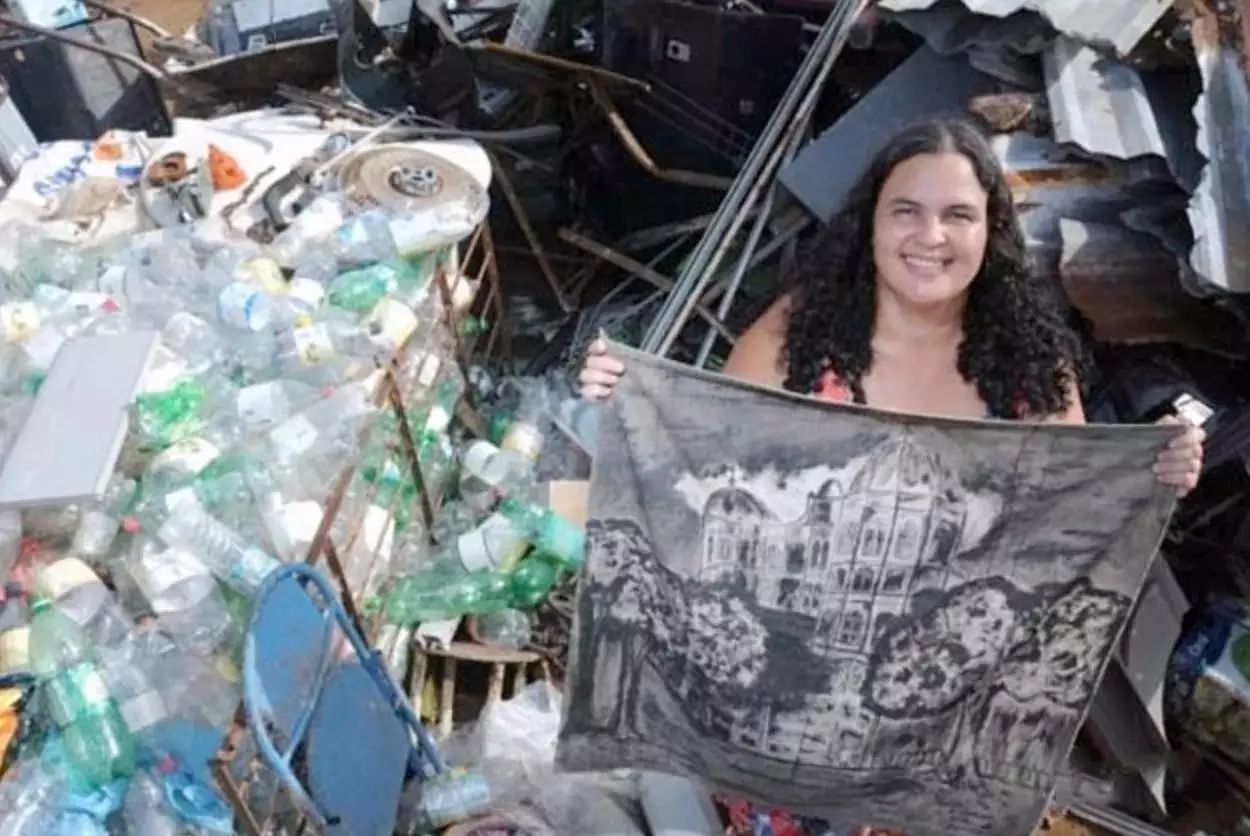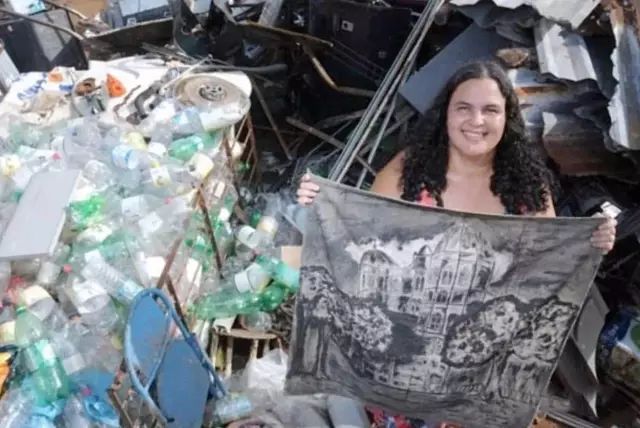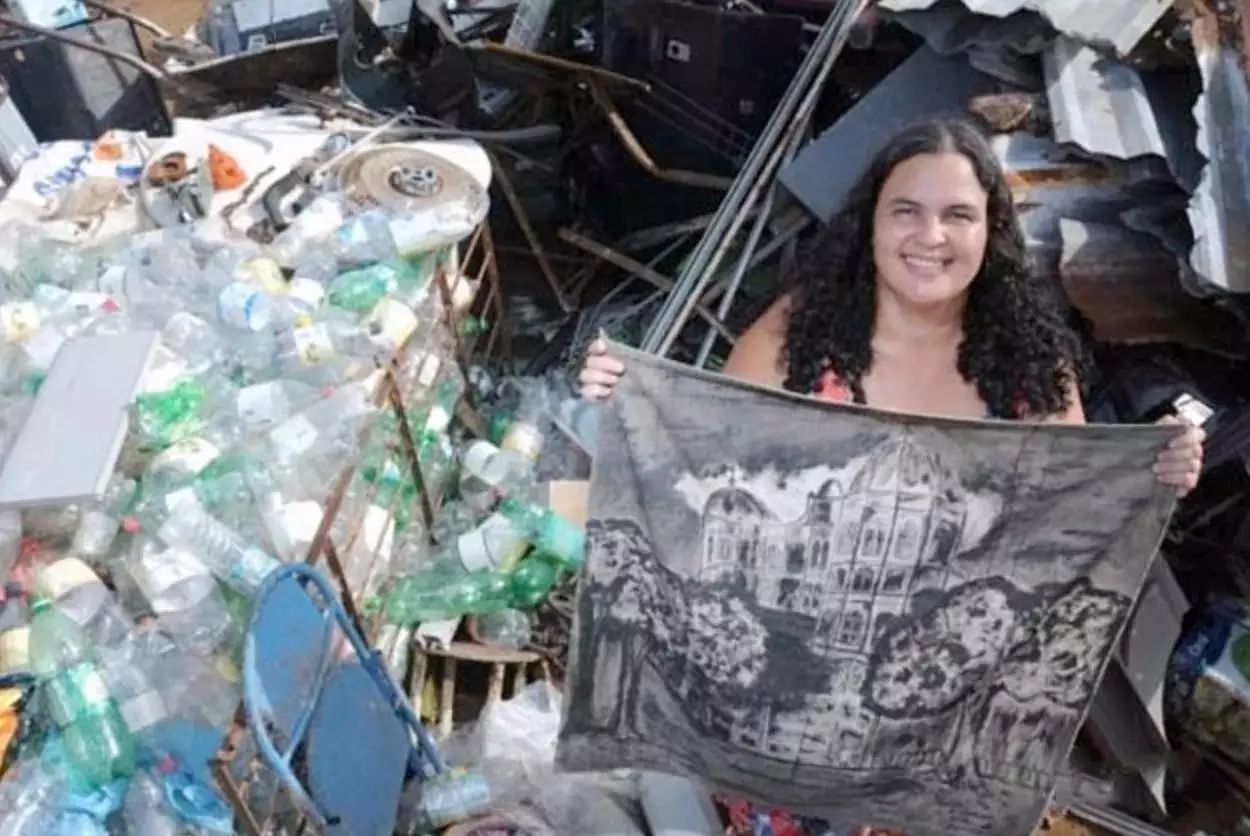 6)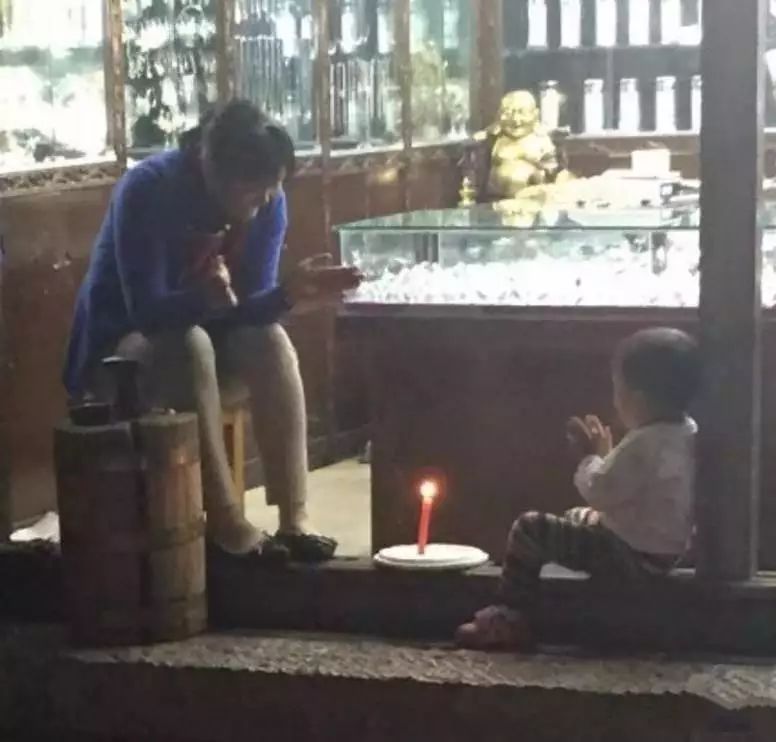 At the door, a young mother lights a candle and sings a happy birthday song to her child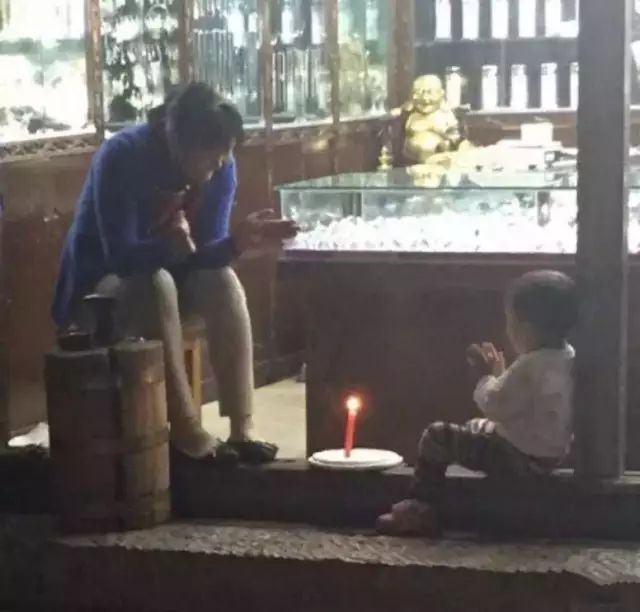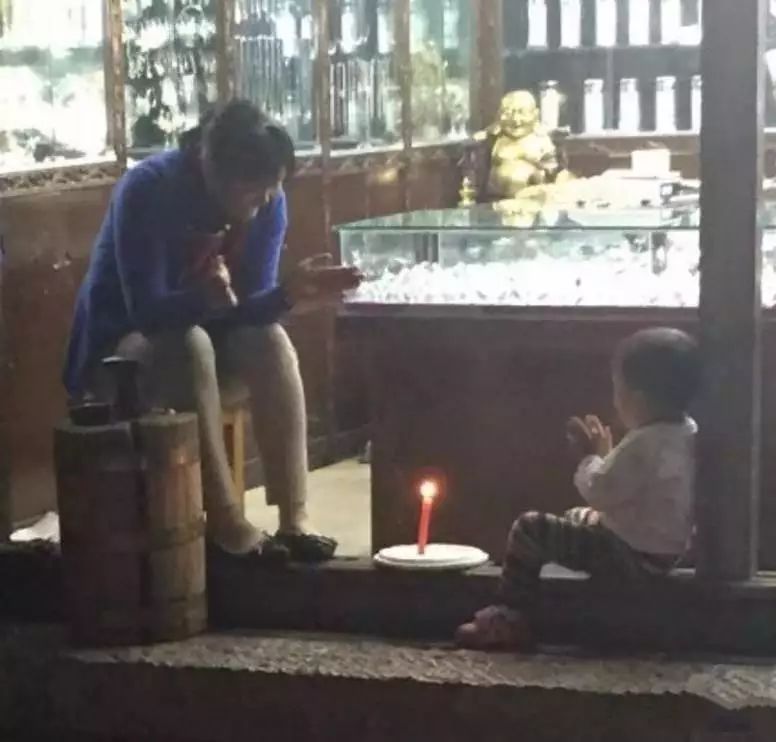 7) A house suddenly caught fire, but the parents escaped with their children. They watched their burning house, and it was too late to save the house when the fire engines came. The father told the family: "The house can be rebuilt, what is most important is that you are safe. We can not change, we should just face it." So the family took a happy group photo in front of the burning house.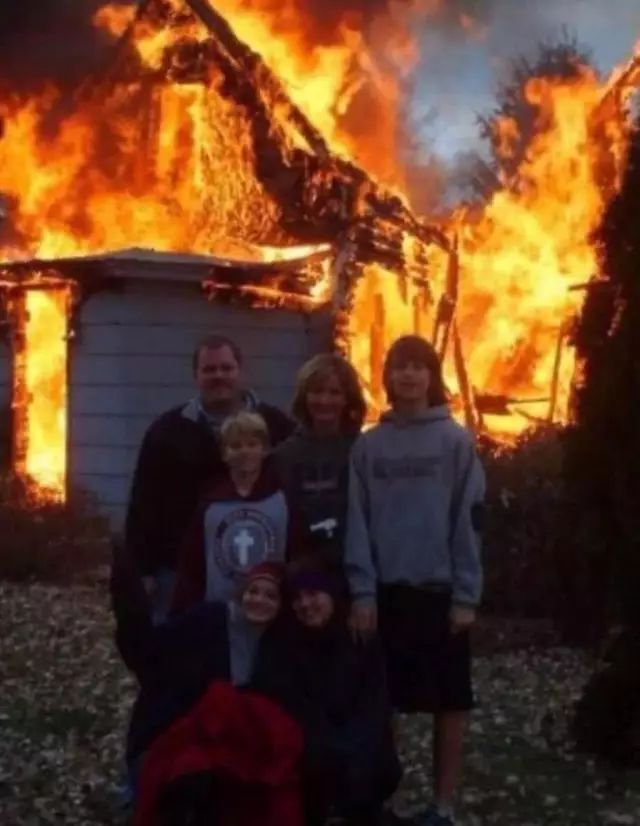 When we have each other, then we have a home.
8) A dog disabled in a car accident faced euthanization if no one adopted her.
Until she met Mike, a man who went through the same misfortunes as her, so she and Mike became close friends.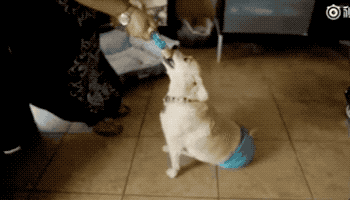 Life is not perfect, but no difficulty can bring us down.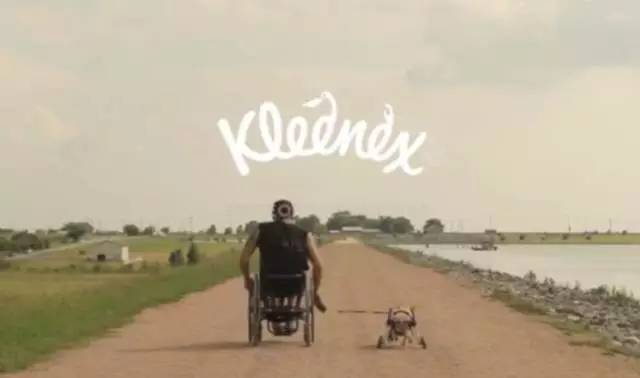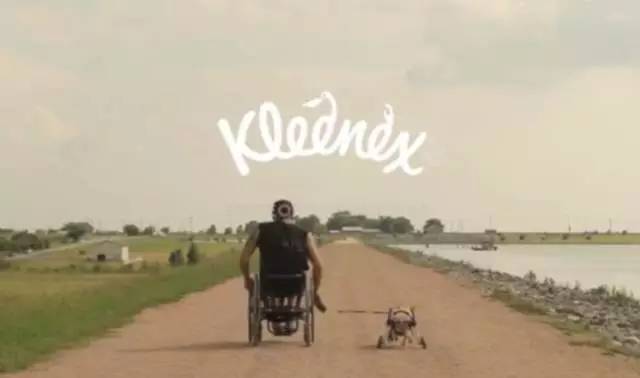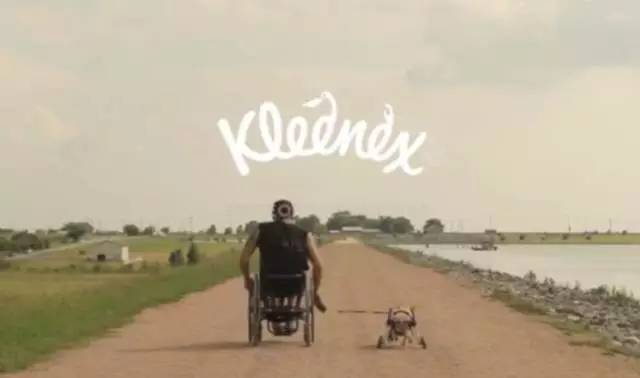 Think positive, and do not fear sadness.
 
9) On the street corner at late night, a little boy squatted at a wooden table, doing his homework diligently by the light from the restaurant nearby. Five years ago, his house was destroyed by a fire and his father passed away. His mother begged for a living, but he still loved to study, despite the hardships of life.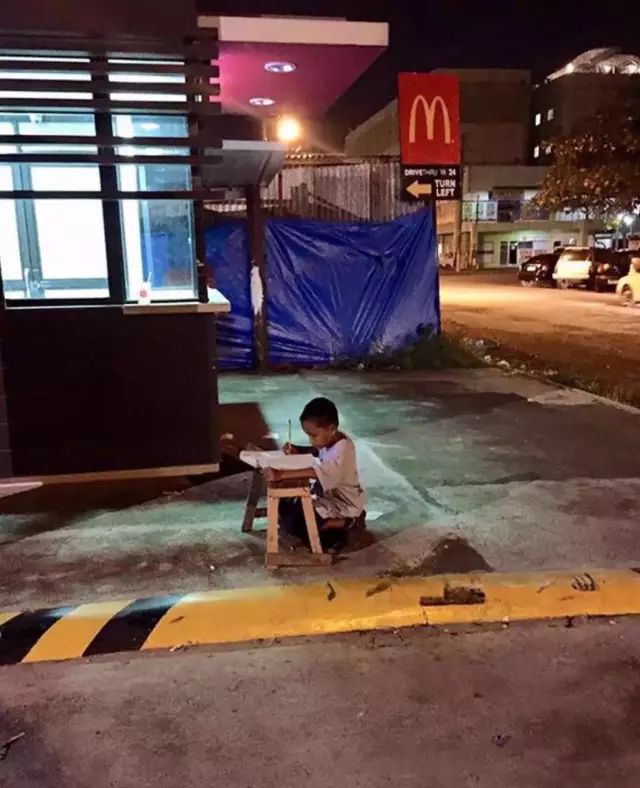 Life is hard, but please have faith.
 
10) A boy who was learning to play the flute had no audience, but a little black cat appeared to be in love with it.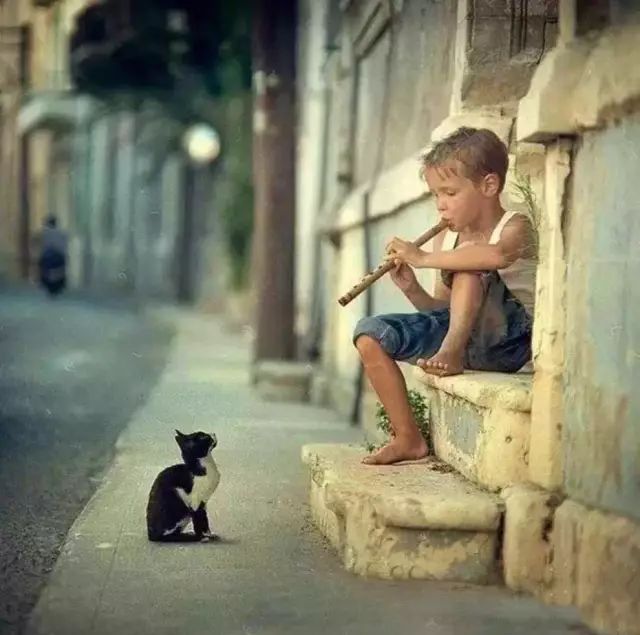 "Ah…actually, I do not understand, but I wanted to accompany you."
11) One summer afternoon, a father who had not come home for a long time had a serious afternoon tea and dance with her.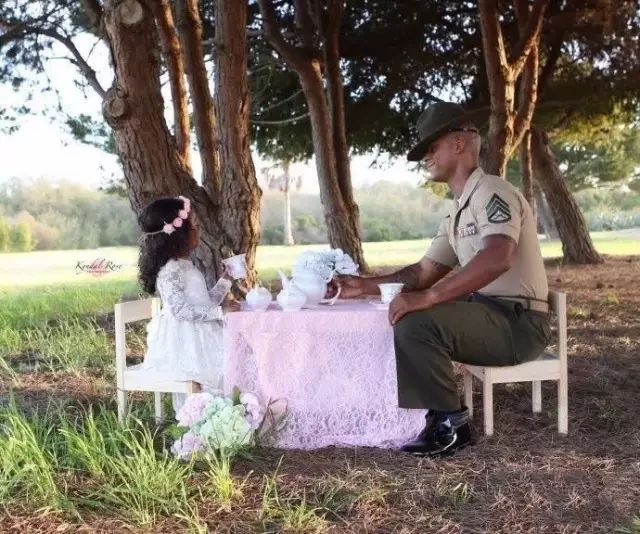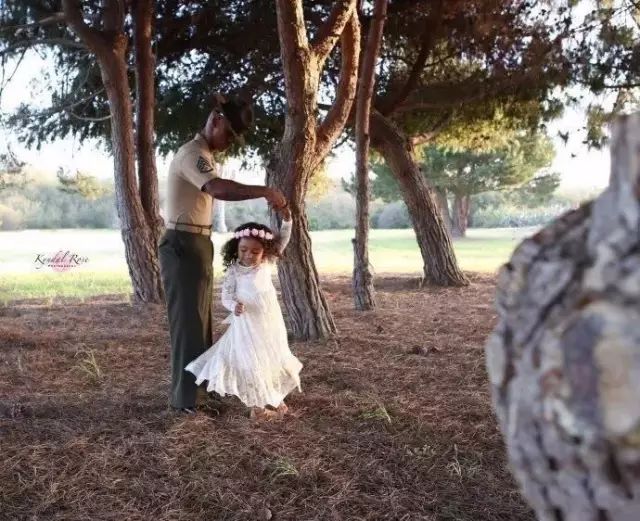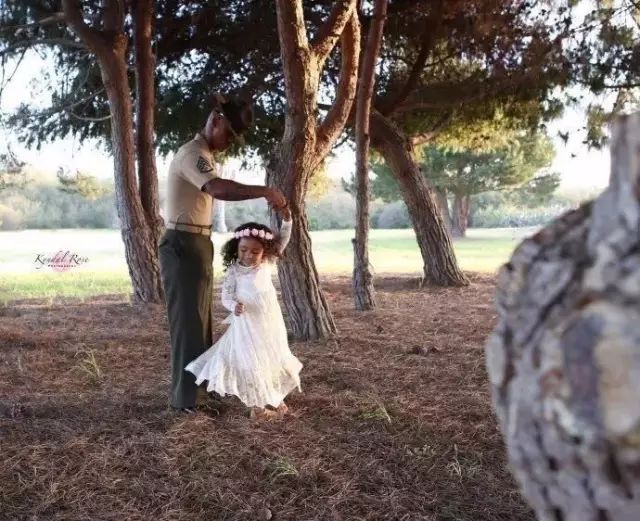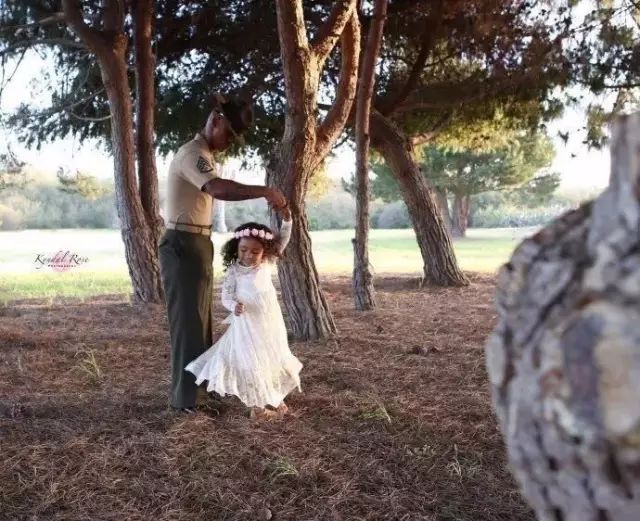 Every day, every meal deserves to be taken seriously and gently
12) After the war, a teenager was quietly reading in the doorway of a bombed bookstore. There was chaos around him, but his heart was still.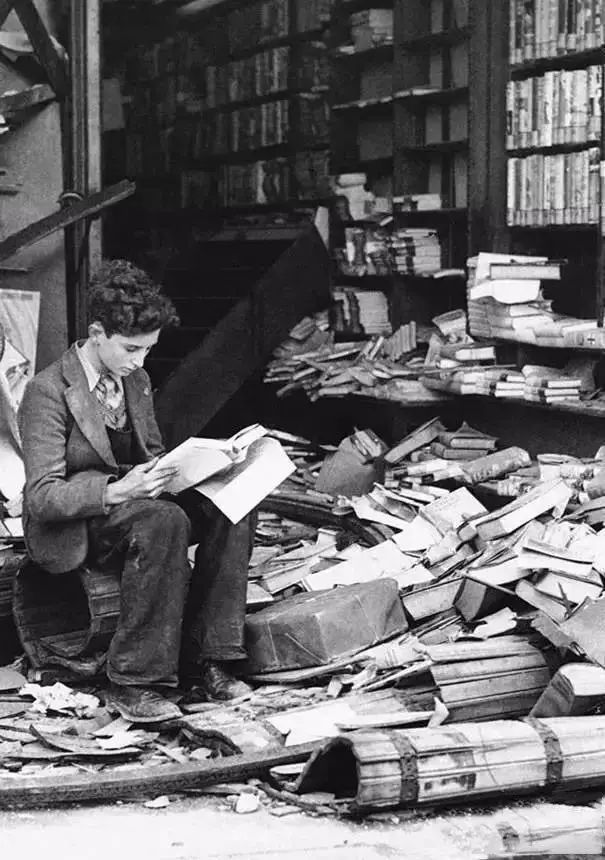 In an age when most people are rushing down the road, be a person who occasionally looks up at the stars.
……
Maugham said in "The Moon and Sixpence" that I had tried my best to live an ordinary life, which was probably the fate of the majority.
However, in this lifetime, some people have been looking down to the ground for sixpence, while some people have looked up to see the moon in the sky.
As to the bored life, some people choose to accept fate, but the heart of those who don't paint a flower in a dull life, and draws poems from suffering.
What is more important than life is attitude and life style. The person who loves life, regardless of the fate of his cards, always tries to play fairly.
There is no such thing as a rich life, but you can try to put down the book and take a long afternoon nap.
Otherwise you may not have time to park your car and leave a footprint in the path of the waves of the maple trees, nor you can make time for playing chess to enjoy the temporary break.
When you start to live your life seriously, you will find that meals and your vegetable are really good, and you won't be complaining anymore. You will only be in awe of life.
Whatever the world does to you, may you be as brave and hopeful as ever.
Note: The original Chinese text was from QQ_shijuezhi. It is rather long, so I took the liberty to pick major sections to translate into English here. May you find time to enjoy this article.
0
Making a crisis into something favorable is possible. A crisis can also be a turning point.
A young man is determined to be a pastor.
In the United States, if you want to become a pastor, you need to pass an examination, one of which involves public speaking.
The young man came half a month early to the testing center, and he stayed in a hotel room to prepare his speech.
After he had written the speech, he read it aloud in the room every day, until he could even recite it backwards fluently.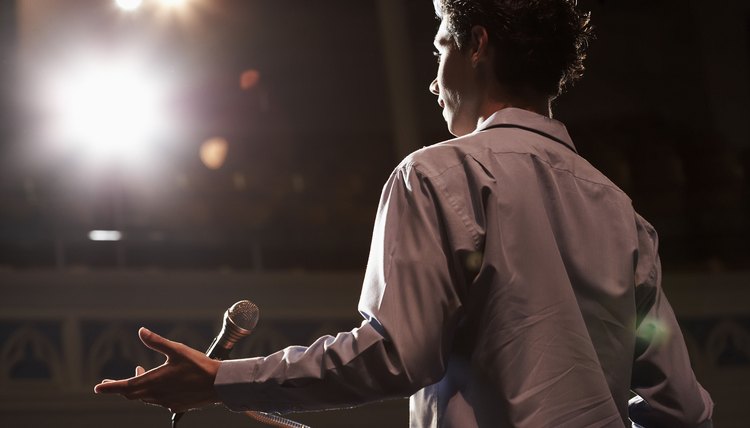 He was well prepared and full of confidence to take the test on the day of examination. He picked up a random number, sat down, and listened to the speeches by the candidates before him.
There was one person before him, and he was surprised to discover that the presentation of the individual on the stage was the same as his!
Looking more closely at the person, he realized that the man had lived the hotel room next to his.
There was no doubt that the candidate had eavesdropped on his loud reciting in his hotel room, and had then plagiarized his speech.
The student tried to suppress his anger and panic, desperately looking for a way out.
Suddenly, a light came upon him; he found a way.
He went to the stage calmly and gave his speech.
His speech was received with warm applause, and he passed the exam at the end.
How did he do it?
Do you want to know how he did it?
This is what he said:
"To be a pastor, you need to be patient, able to listen, and capable of memorizing.
I will now demonstrate that I can repeat the previous speech word for word. "
He began to recite the speech that he had practiced diligently. His speech was more exciting than that of the previous candidate, and the audience gave him warm applause.
This serves as an excellent example of making a crisis into a favorable turning point. It is done by staying calm and composed to deal with it at a time of peril.
0
If you would like to have background music while you are reading, please click on the arrow below.
I have undergone so many trials. Whenever something happened to me, it reminded
me of Job in the Bible. Job was a righteous, devout, faithful man. God allowed Satan
to afflict Job to test his faithfulness. As a result, many tragedies were visited upon
Job. In the end, however, God blessed Job with twice as much as he had had before
his trials began. One thing that sticks in my mind was that even though God put Job
in the hands of Satan, He stipulated one condition: that Satan must spare Job's life.
Yes, Job's life had to be spared. Then, after his trials were over, he could bear
witness for God and receive His double blessing. It was wonderful that it never
occurred to me to kill myself even when these trials came upon me, one after
another, nonstop. I knew clearly, as a mother, that I had no choice but to live. Yes,
sometimes it might have felt like a bomb exploding in my heart, breaking my heart
into pieces, but I had to live. So I went on with my life. Remaining alive, I was able to
experience results I had not anticipated and thus learn whether it had really been a
"bomb" or, rather, a "blessing" in disguise.
Let me tell you why I use the shocking word "bomb." After my husband passed
away, I went to his office to clean out his things. I found a box in his bottom drawer.
It contained a ring and a picture of a girl. I was stunned by my discovery.
Sitting there, I felt as though the earth had stopped turning. I felt numb. How I wished I were non-existent! How I wished I had not been born! "I wish… Oh, my goodness, I wish …" I did not know what to wish. My whole being was frozen. My thoughts were frozen. "Oh God, please help me…."
What I soon realized I wished for was that my late husband could come back to life, if only for five minutes, so I could ask him what was going on. Of course, it was impossible for him to come back, and then suddenly, awakening from my paralysis, I had an idea –the best way to get to the bottom of the mystery would be to ask my husband's best friend for details.
I went all the way to Canada to see him, only to receive this reply: The girl was their high school classmate. He added that whoever came to the United States first would suffer. He implied that I came to the States first and married his friend, so I suffered. What a cruel thing to say! He was unkind, and he did not want to give me any details. No matter how desperately I wanted the truth, I could not get it. He had no empathy; my hope to get to the bottom of the issue vanished.
Returning to Boston, I knew I had no one but myself to rely on. I thought through the whole incident. Apparently, my husband had intended to propose to that girl, but I got here before her, so he married me instead. He never gave me any sign of having another girlfriend. He apparently knew I would have left him if I ever found out.
Why did it happen? After analyzing our interaction, I calmed down, and I could not blame him for what he had done. A month before he departed for the U.S. to begin graduate studies, we had been quarreling all the time. It was because my parents did not approve of our relationship. I felt pressure from my parents and passed it on to him. Maybe he could not take it anymore and tried to find a way out by finding a new girlfriend.
The past is past, and I told myself that I had to let go of this agony. I needed to deal with it so my children and I could get on with our lives. One Sunday I locked myself in my room and for the last time read his diary, which detailed our activities when we were together at the university. I read and read … I cried and cried. And then I burned it. I said good-bye to my husband, good-bye to my past. And I felt relieved.

But still this bomb had exploded and broken my heart in pieces. If I had not had this marriage, I might have spared myself all these hardships. I felt sad and tried to escape my torments. At this time, we were looking to buy a house. I started to notice a change in my daughter following her father's death. She told me I did not need a house with a family room. I asked her why. She told me it was because we were not a family. I suddenly realized that her schoolmates were teasing her because she did not have a father. I needed to come up with a solution.
At about this time, some friends from New York came to Boston and wanted to get together with me at a Taiwanese Association meeting. I had not been going to any social activities since my husband's death. But to see my friends, I ended up joining their dinner party. There I met a man, Ming, who later became my husband. He was two years older than me. We had met earlier at the university in Taiwan. He then got his Ph.D. in Canada and was doing a postdoctoral fellowship at Harvard University at the time we met again in Boston. He was kind, considerate and had a big heart. He loved me very much and accepted my children as his own. I thank him for giving my children a loving, trusting and reliable father.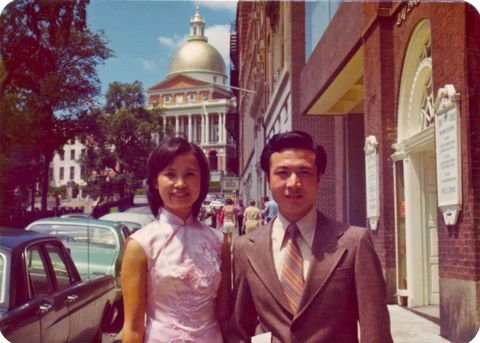 So is it a bomb? Or is it a blessing in disguise? I am grateful that I did not surrender to all my trials and give up my life. I gave myself a chance to see whether it was a bomb or a blessing. Just like Job, who lived to receive a double blessing from God. I thank my late husband who gave me a present – a box with a ring and a girl's picture. He helped me to get out of my own box and let go of him so I could have a life of my own for my children and myself.